Book launch: "Post-conflict Colombia and the global circulation of military expertise"
Roundtable
November 21, 2022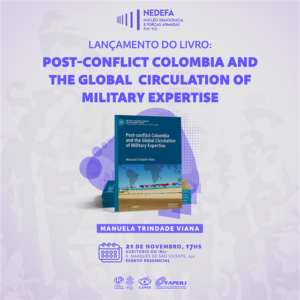 On November 21st, 2022 at 5pm, NEDEFA and the Institute of International Relations PUC-Rio held the launch of the book "Post-conflict Colombia and the global circulation of military expertise", by NEDEFA's researcher Manuela Trindade Viana (Pontificia Universidad Javeriana).
What if the post-conflict is less an end of violence than its transformation? Taking, as an entry point, Colombia's hemispheric and global circulation as a success story due to the end of Latin America's longest conflict, Manuela Trindade Viana argues that the post-conflict mainly signals the new value assigned to antinarcotics and anti-terrorist tactics and the formation of a new military professional: no longer the citizen soldier, but the "expert soldier".
Held at IRI 2 Auditorium, the event consisted of a debate between the book author, Monica Herz and Maíra Siman, who are NEDEFA's researchers and IRI/PUC-Rio's professors.
A professor at Pontificia Universidad Javeriana, Manuela published her book(available here) with Palgrave Macmillan. The book is part of the series "Critical Security Studies in the Global South", edited by Profs. Pinar Bilgin (Bilkent University) and Monica Herz (IRI/PUC-Rio).