1822-2022: Militarism and militarization in Brazil
Seminar
November 17 and 18, 2022
How can we understand the place of military actors and practices in the history of Brazil and their relationship with our democracy? How do militarization processes, including their transnational dimensions, relate to militaristic conceptions in the production of racialized and gendered orders?
In light of the bicentennial of Brazil's independence, the seminar "1822-2022: Militarism and militarization in Brazil" will promote transdisciplinary discussions about the dimensions of militarism and militarization processes observed in the country throughout its history and in the contemporary period.
The seminar will be held on November 17 and 18, 2022 in hybrid format: held in person at the IRI 2 auditorium (Rua Marquês de São Vicente 232, Gávea), and broadcast online via the PUC-Rio's Institute of International Relations channel on YouTube.
The event will be the 2nd Seminar on Democracy and the Armed Forcespromoted by the Center on Democracy and the Armed Forces (NEDEFA/PUC-Rio) – an interdisciplinary center that brings together researchers from the Social Sciences, Law, History, and International Relations who study issues related to the Armed Forces and their integration into the democratic rule of law – together with the Institute of International Relations at PUC-Rio. The event is supported by CAPES and FAPERJ.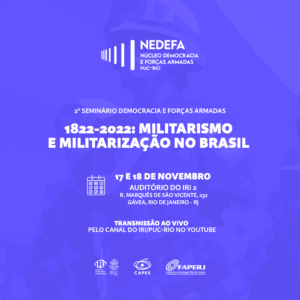 Check out the complete schedule, with links to the online broascast (in Portuguese):
9h – Opening
09:30-11h: Roundtable 1
History and Memory of the dictatorship: the role of companies in human rights violations
Chair: Andrea Schettini (PUC-Rio)
Discussant: Maurício Parada (PUC-Rio)
Ana Paula Goulart (UFRJ)
Flora Daemon (UFRRJ)
Lucas Pedretti (UFRJ)
11:30am-1pm: Roundtable 2
Militarism, race and the production of order
Chair: Maíra Siman (PUC-Rio)
Discussant: Adriana Barreto (UFRRJ)
Antonio Carlos de Souza Lima (UFRJ)
Luiz Geraldo Silva (UFPR)
09:30-11h am – Roundtable 3
Gender, family and sexuality: a look from the Armed Forces
Chair: Adriana Marques (UFRJ)
Discussant: Paula Drumond (PUC-Rio)
Celso Castro (CPDOC/FGV)
James Green (Brown University)
Natalia Schwether (Unesp)
11:30am-1pm: Roundtable 4
Militarization in transnational perspective: Latin American crossings
Chair: Maria Celina D'Araújo (PUC-Rio)
Discussant: Manuela Trindade Viana (Pontificia Universidad Javeriana)
Clarissa Forner (São Judas Tadeu University)
Alcides Peron (FECAP)
Marília Pimenta (FECAP)